Unlocking the Wave Energy Potential
Vision and Objective
In line with the Government's vision of achieving 35% renewable energy by 2025, the MOI took a leap forward to implement the first fully-functional wave energy converter prototype of the country. The successful completion of this project will enable the Government to come up with a low-cost alternative to fossil fuel use, by gearing the Ocean Economy into Marine Renewable Energy resource exploitation. Such strategy serves the dual-benefit of reducing fossil fuel and establishing mitigation actions with regards to the rising concerns of climate change. The latter is enabled through the decoupling of carbon dioxide emission from sustainable energy generation.
The Project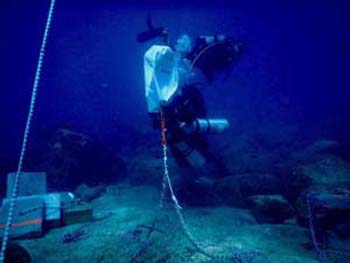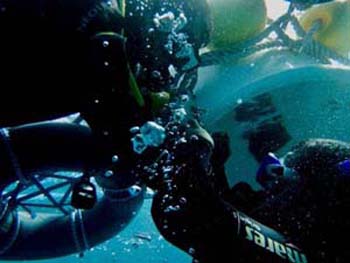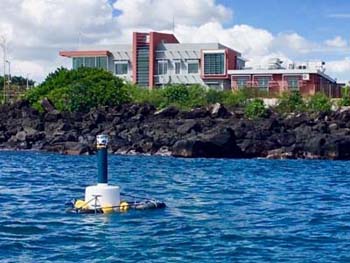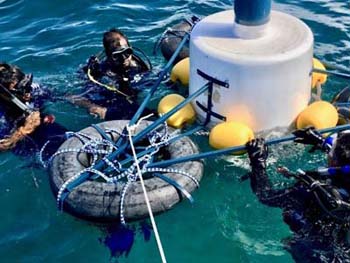 In 2017, the MOI embarked on a project involving the tapping of surface wave energy using an oscillating water column principle. The main objective of the project is to showcase the possibility of generating electricity from waves using a low-cost device. A two-phase approach was initially used for the successful completion of the wave energy conversion prototype. The first phase involved the construction of the floating platform and air chamber by the MOI whilst the second phase was mostly targeted at implementing the power take-off module by collaborators from the University of Mauritius. After numerous trials and testing, the prototype is finally operational and is successful at converting energy from waves into electricity.
Physical Oceanography Team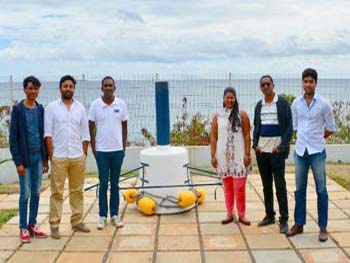 Ruben Louis, Olivier Pasnin, Murughen Sadien, Khishma Modoosoodun-Nicolas, Oomarsing Gooroochurn, Jay Doorga (from left to right)
Main Staff: Jay Doorga, Murughen Sadien, Oomarsing Gooroochurn, Olivier Pasnin, Khishma Modoosoodun-Nicolas
Staff Involved: Shane Sunassee, Chettanand Samyan, Arnaud Nicolas, Oocheetsing Sadasing, Vimal Ramchandur, Beenesh Motah, Vinay Munsah, Azagen Coopen, Vishwamitra Rishi, Prathav Askoolum, Neermala Mudhoo, Kunal Kutwaroo, Ruben Louis
Collaborators: Dr Roddy Lollchund, Dr Doobayparsad Baijnath from University of Mauritius
Project Research Publications
Doorga, J.R.S., Chinta, D., Gooroochurn, O., Rawat, A., Ramchandur, V., Motah, B.A., Sunassee, S. and Samyan, C., 2018. Assessment of the wave potential at selected hydrology and coastal environments around a tropical island, case study: Mauritius. International Journal of Energy and Environmental Engineering, 9(2), pp.135-153.
Doorga, J.R.S., Gooroochurn, O., Motah, B.A., Ramchandur, V. and Sunassee, S., 2018. A novel modelling approach to the identification of optimum sites for the placement of ocean thermal energy conversion (OTEC) power plant: application to the tropical island climate of Mauritius. International Journal of Energy and Environmental Engineering, 9(4), pp.363-382.
Unveiling the Ocean Renewable Potential and Launching Ceremony of the Wave Energy Converter Prototype
Launching of the Wave Energy Converter Prototype at the MOI on Thursday 29 August 2019.