The collection of oceanographic data not only enables us to understand the ocean and the climate system but also helps us make the proper decisions for sustainable development and management of ocean resources. This is especially crucial for Small Island Developing States, including the Republic of Mauritius that rely heavily on their ocean resources themselves threatened by changes in climate and ocean conditions. Similarly, the development of sustainable ocean-related business activities including a mari-culture industry, which is a growing sector in many developing countries, also requires a good understanding of the ocean.
Following the Budget Speech 2016-2017, the Government has reiterated its strong intent of making the Ocean, a pillar of its Economy and has tasked the MOI with the responsibility of fully characterising the aquaculture sites around mainland Mauritius. MOI has therefore re-aligned its Strategic Plan with the Government Vision, and its prime focus is now on the characterization of coastal and open waters of the Mauritian EEZ.
After its establishment in 2000 and through the various projects initiated since, the MOI has been generating large amounts of oceanographic data. These data include physical, biological and chemical measurements derived from in situ oceanographic observations. The parameters include: temperature, conductivity, salinity, pH, turbidity, current/sea surface current pattern, water density and pressure, wave and tide, bathymetry, beach topography/relative elevation, total dissolved solids, cations / anions, 222Radon concentration, nutrient concentrations, heavy metals, fluorescence, genetic information on selected marine organisms (DNA), information on sponges, etc.
The map below is a visual representation of the data available at different sites in Mauritius. By clicking on a site (

), the list of accessible parameters is displayed.
Request for data should be addressed to the Director of the Mauritius Oceanography Institute.
Oceanographic data around the Island of Mauritius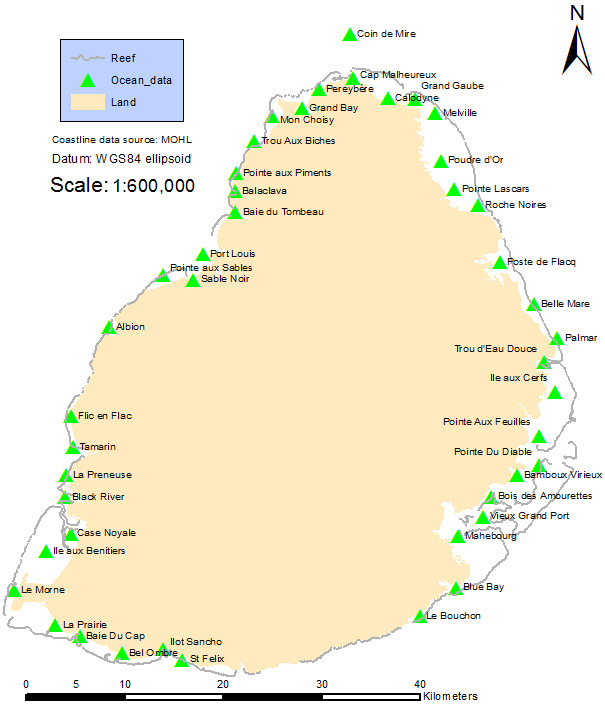 The information on this map was derived from digital processing using GIS. The Mauritius Oceanography Institute assumes no legal liability or responsibility for the accuracy, completeness or usefulness of the information provided regardless of the cause of such or for any decision made, action taken, or action not taken by the user in reliance upon any maps or information provided herein. This Chart has been produced by the Mauritius Oceanography Institute and it is not intended for any other purpose other than providing information on oceanographic data around the island of Mauritius. Maps are intellectual property of the Mauritius Oceanography Institute covered by the Republic of Mauritius copyright laws.
X
Port Louis
| | | |
| --- | --- | --- |
| Parameters | Period | No. of stations |
| Market Fish: Morphometric/DNA | 2010-2013 | - |
| Sponge | 2005-2012 | - |
X
Baie du Tombeau
| | | |
| --- | --- | --- |
| Parameters | Period | No. of stations |
| 222Radon concentration | Jun 2014 > | 12 |
| Bathymetry | 2011 | - |
| Market Fish: Morphometric/DNA | 2010-2013 | - |
| pH | Jun 2014 > | 12 |
| Salinity | Jun 2014 > | 12 |
| Sponge | 2005-2012 | - |
| Temperature | Jun 2014 > | 12 |
X
Balaclava
| | | |
| --- | --- | --- |
| Parameters | Period | No. of stations |
| Sponge | 2009 | - |
X
Pointe aux Piments
| | | |
| --- | --- | --- |
| Parameters | Period | No. of stations |
| Sponge | 2005-2012 | - |
X
Trou aux Biches
| | | |
| --- | --- | --- |
| Parameters | Period | No. of stations |
| 222Radon concentration | Oct 2013 > | 240 |
| Bathymetry | 2009 | - |
| Cations/Anions | Oct 2013 > | 240 |
| Heavy metals | Oct 2013 > | 240 |
| Nutrient concentration | Oct 2013 > | 240 |
| pH | Oct 2013 > | 240 |
| Salinity | Oct 2013 > | 240 |
| Sea cucumber: Morphometric/DNA | 2013 | - |
| Sponge | 2010 | - |
| Temperature | Oct 2013 > | 240 |
X
Mon Choisy
| | | |
| --- | --- | --- |
| Parameters | Period | No. of stations |
| Bathymetry | 2009 | - |
| Beach topography / relative elevation | 2012-2013 | - |
X
Grand Bay
| | | |
| --- | --- | --- |
| Parameters | Period | No. of stations |
| Market Fish: Morphometric/DNA | 2010-2013 | - |
| Sponge | 2005-2012 | - |
X
Pereybčre
| | | |
| --- | --- | --- |
| Parameters | Period | No. of stations |
| 222Radon concentration | Jan 2014 > | 12 |
| pH | Jan 2014 > | 12 |
| Salinity | Jan 2014 > | 12 |
| Temperature | Jan 2014 > | 12 |
X
Cap Malheureux
| | | |
| --- | --- | --- |
| Parameters | Period | No. of stations |
| Bathymetry | 2011 | - |
| Sponge | 2005-2012 | - |
X
Coin de Mire
| | | |
| --- | --- | --- |
| Parameters | Period | No. of stations |
| Sponge | 2005-2012 | - |
X
Calodyne
| | | |
| --- | --- | --- |
| Parameters | Period | No. of stations |
| 222Radon concentration | Jan 2014 > | 12 |
| pH | Jan 2014 > | 12 |
| Salinity | Jan 2014 > | 12 |
| Temperature | Jan 2014 > | 12 |
X
Grand Gaube
| | | |
| --- | --- | --- |
| Parameters | Period | No. of stations |
| 222Radon concentration | Jan 2014 > | 12 |
| Market Fish: Morphometric/DNA | 2010-2013 | - |
| pH | Jan 2014 > | 12 |
| Salinity | Jan 2014 > | 12 |
| Sponge | 2005-2012 | - |
| Temperature | Jan 2014 > | 12 |
X
Melville
| | | |
| --- | --- | --- |
| Parameters | Period | No. of stations |
| Sponge | 2005-2012 | - |
X
Poudre d'Or
| | | |
| --- | --- | --- |
| Parameters | Period | No. of stations |
| Bathymetry | 2009 | - |
| Sponge | 2009 | - |
X
Pointe Lascars
| | | |
| --- | --- | --- |
| Parameters | Period | No. of stations |
| Sponge | 2005-2012 | - |
X
Roche Noires
| | | |
| --- | --- | --- |
| Parameters | Period | No. of stations |
| Sponge | 2005-2012 | - |
| Wave Direction, Wave Height, Wave Period | 2012-2015 | 1 |
X
Poste de Flacq
| | | |
| --- | --- | --- |
| Parameters | Period | No. of stations |
| Sponge | 2005-2012 | - |
X
Belle Mare
| | | |
| --- | --- | --- |
| Parameters | Period | No. of stations |
| Bathymetry | 2008 | - |
| Beach topography / relative elevation | 2012-2013 | - |
| Sea cucumber: Morphometric/DNA | 2013 | - |
| Sea surface current pattern | 2012-2013 | - |
| Sponge | 2009 | - |
X
Palmar
| | | |
| --- | --- | --- |
| Parameters | Period | No. of stations |
| Bathymetry | 2009 | - |
| Sponge | 2005-2012 | - |
X
Trou d'Eau Douce
| | | |
| --- | --- | --- |
| Parameters | Period | No. of stations |
| 222Radon concentration | Aug 2015 > | 24 |
| Market Fish: Morphometric/DNA | 2010-2013 | - |
| pH | Aug 2015 > | 24 |
| Salinity | Aug 2015 > | 24 |
| Sponge | 2010 | - |
| Temperature | Aug 2015 > | 24 |
X
Ile aux Cerfs
| | | |
| --- | --- | --- |
| Parameters | Period | No. of stations |
| Sponge | 2006 | - |
X
Pointe aux feuilles
| | | |
| --- | --- | --- |
| Parameters | Period | No. of stations |
| Bathymetry | Apr 2016 | - |
| Conductivity | Apr 2016 | - |
| Current | Apr 2016 | - |
| Density | Apr 2016 | - |
| Fluoresence | Apr 2016 | - |
| pH | 2012-2014 | 1 |
| Pressure | Apr 2016 | - |
| Salinity | 2012-2014 | 1 |
| TDS | 2012-2014 | 1 |
| Temperature | 2012-2014, Apr 2016 | 1 |
| Tide | Apr 2016 | - |
| Turbidity | Apr 2016 | - |
Grand Sable
| | | |
| --- | --- | --- |
| Parameters | Period | No. of stations |
| 222Radon concentration | Nov 2014 > | 12 |
| pH | Nov 2014 > | 12 |
| Salinity | Nov 2014 > | 12 |
| Temperature | Nov 2014 > | 12 |
X
Pointe du Diable
| | | |
| --- | --- | --- |
| Parameters | Period | No. of stations |
| 222Radon concentration | Dec 2014 > | 12 |
| Bathymetry | May 2016 | - |
| Conductivity | May 2016 | - |
| Current | May 2016 | - |
| Density | May 2016 | - |
| Fluoresence | May 2016 | - |
| pH | Dec 2014 > | 12 |
| Pressure | May 2016 | - |
| Salinity | Dec 2014 > | 12 |
| Sponge | 2005-2012 | - |
| Temperature | Dec 2014 > | 12 |
| Tide | May 2016 | - |
| Turbidity | May 2016 | - |
X
Bambous Virieux
| | | |
| --- | --- | --- |
| Parameters | Period | No. of stations |
| Bathymetry | May 2016 | - |
| Conductivity | May 2016 | - |
| Current | May 2016 | - |
| Density | May 2016 | - |
| Fluoresence | May 2016 | - |
| Pressure | May 2016 | - |
| Sponge | 2005-2012 | - |
| Temperature | May 2016 | - |
| Tide | May 2016 | - |
| Turbidity | May 2016 | - |
X
Bois des Amourettes
| | | |
| --- | --- | --- |
| Parameters | Period | No. of stations |
| Bathymetry | May 2016 | - |
| Conductivity | May 2016 | - |
| Current | May 2016 | - |
| Density | May 2016 | - |
| Fluoresence | May 2016 | - |
| Pressure | May 2016 | - |
| Sponge | 2005-2012 | - |
| Temperature | May 2016 | - |
| Tide | May 2016 | - |
| Turbidity | May 2016 | - |
X
Vieux Grand Port
| | | |
| --- | --- | --- |
| Parameters | Period | No. of stations |
| 222Radon concentration | Feb 2015 > | 12 |
| Bathymetry | May 2016 | - |
| Conductivity | May 2016 | - |
| Current | May 2016 | - |
| Density | May 2016 | - |
| Fluoresence | May 2016 | - |
| pH | Feb 2015 > | 12 |
| Pressure | May 2016 | - |
| Salinity | Feb 2015 > | 12 |
| Sea cucumber: Morphometric/DNA | 2013 | - |
| Sponge | 2005-2012 | - |
| Temperature | Feb 2015 > | 12 |
| Tide | May 2016 | - |
| Turbidity | May 2016 | - |
X
Mahebourg
| | | |
| --- | --- | --- |
| Parameters | Period | No. of stations |
| 222Radon concentration | Nov 2013 > | 24 |
| Bathymetry | 2013, Jun 2016 | - |
| Conductivity | Jun 2016 | - |
| Current | Jun 2016 | - |
| Density | Jun 2016 | - |
| Fluoresence | Jun 2016 | - |
| Market Fish: Morphometric/DNA | 2010-2013 | - |
| pH | Nov 2013 > | 24 |
| Pressure | Jun 2016 | - |
| Salinity | Nov 2013 > | 24 |
| Sea cucumber: Morphometric/DNA | 2013 | - |
| Sponge | 2005-2012 | - |
| Temperature | Nov 2013 > | 24 |
| Tide | Jun 2016 | - |
| Turbidity | Jun 2016 | - |
X
Blue Bay
| | | |
| --- | --- | --- |
| Parameters | Period | No. of stations |
| Bathymetry | 2010 | - |
| Sponge | 2005-2012 | - |
X
Le Bouchon
| | | |
| --- | --- | --- |
| Parameters | Period | No. of stations |
| 222Radon concentration | Jan 2014 > | 12 |
| pH | Jan 2014 > | 12 |
| Salinity | Jan 2014 > | 12 |
| Temperature | Jan 2014 > | 12 |
X
St Felix
| | | |
| --- | --- | --- |
| Parameters | Period | No. of stations |
| 222Radon concentration | Nov 2014 > | 12 |
| Beach topography / relative elevation | 2012-2014 | - |
| pH | Nov 2014 > | 12 |
| Salinity | Nov 2014 > | 12 |
| Temperature | Nov 2014 > | 12 |
X
Ilot Sancho
| | | |
| --- | --- | --- |
| Parameters | Period | No. of stations |
| 222Radon concentration | May 2015 > | 12 |
| pH | May 2015 > | 12 |
| Salinity | May 2015 > | 12 |
| Temperature | May 2015 > | 12 |
X
Bel Ombre
| | | |
| --- | --- | --- |
| Parameters | Period | No. of stations |
| Sea cucumber: Morphometric/DNA | 2013 | - |
X
Baie du Cap
| | | |
| --- | --- | --- |
| Parameters | Period | No. of stations |
| Sponge | 2005-2012 | - |
X
La Prairie
| | | |
| --- | --- | --- |
| Parameters | Period | No. of stations |
| 222Radon concentration | Jan 2014 > | 12 |
| pH | Jan 2014 > | 12 |
| Salinity | Jan 2014 > | 12 |
| Sea cucumber: Morphometric/DNA | 2013 | - |
| Temperature | Jan 2014 > | 12 |
X
Le Morne
| | | |
| --- | --- | --- |
| Parameters | Period | No. of stations |
| 222Radon concentration | Dec 2013 > | 24 |
| Bathymetry | 2012 | - |
| Market Fish: Morphometric/DNA | 2010-2013 | - |
| pH | Dec 2013 > | 24 |
| Salinity | Dec 2013 > | 24 |
| Sea cucumber: Morphometric/DNA | 2013 | - |
| Sponge | 2005-2012 | - |
| Temperature | Dec 2013 > | 24 |
X
Ile aux Benitiers
| | | |
| --- | --- | --- |
| Parameters | Period | No. of stations |
| Sea cucumber: Morphometric/DNA | 2013 | - |
| Sponge | 2005-2012 | - |
X
Case Noyale
| | | |
| --- | --- | --- |
| Parameters | Period | No. of stations |
| 222Radon concentration | Jul 2014 > | 60 |
| pH | Jul 2014 > | 60 |
| Salinity | Jul 2014 > | 60 |
| Temperature | Jul 2014 > | 60 |
X
Black River
| | | |
| --- | --- | --- |
| Parameters | Period | No. of stations |
| 222Radon concentration | Feb 2015 > | 12 |
| Bathymetry | 2012 | - |
| pH | Feb 2015 > | 12 |
| Salinity | Feb 2015 > | 12 |
| Sponge | 2005-2012 | - |
| Temperature | Feb 2015 > | 12 |
X
La Preneuse
| | | |
| --- | --- | --- |
| Parameters | Period | No. of stations |
| Bathymetry | 2010 | - |
X
Tamarin
| | | |
| --- | --- | --- |
| Parameters | Period | No. of stations |
| 222Radon concentration | Aug 2014 > | 24 |
| Bathymetry | 2010 | - |
| Conductivity | Apr 2014 (1 month) | - |
| Current | Apr 2014 (1 month) | - |
| Density | Apr 2014 (1 month) | - |
| Fluoresence | Apr 2014 (1 month) | - |
| Market Fish: Morphometric/DNA | 2010-2013 | - |
| pH | Aug 2014 > | 24 |
| Pressure | Apr 2014 (1 month) | - |
| Salinity | Aug 2014 > | 24 |
| Sponge | 2005-2012 | - |
| Temperature | Apr 2014 (1 month), Aug 2014 > | 24 |
| Tide | Apr 2014 (1 month) | - |
| Turbidity | Apr 2014 (1 month) | - |
X
Flic en Flac
| | | |
| --- | --- | --- |
| Parameters | Period | No. of stations |
| 222Radon concentration | Feb 2014 > | 72 |
| Bathymetry | 2007 | - |
| Beach topography / relative elevation | 2012-2014 | - |
| Market Fish: Morphometric/DNA | 2010-2013 | - |
| pH | Feb 2014 > | 72 |
| Salinity | Feb 2014 > | 72 |
| Sea cucumber: Morphometric/DNA | 2013 | - |
| Sea surface current pattern | 2012-2014 | - |
| Sponge | 2005-2012 | - |
| Temperature | Feb 2014 > | 72 |
X
Albion
| | | |
| --- | --- | --- |
| Parameters | Period | No. of stations |
| 222Radon concentration | Jan 2014 > | 48 |
| Bathymetry | 2011 | - |
| Market Fish: Morphometric/DNA | 2010-2013 | - |
| pH | Jan 2014 > | 48 |
| Salinity | Jan 2014 > | 48 |
| Sea cucumber: Morphometric/DNA | 2013 | - |
| Sea surface current pattern | 2013 | - |
| Sponge | 2010 | - |
| Temperature | Jan 2014 > | 48 |
X
Pointe aux Sables
| | | |
| --- | --- | --- |
| Parameters | Period | No. of stations |
| Sponge | 2005-2012 | - |
X
Sable Noir
| | | |
| --- | --- | --- |
| Parameters | Period | No. of stations |
| 222Radon concentration | May 2014 > | 12 |
| pH | May 2014 > | 12 |
| Salinity | May 2014 > | 12 |
| Temperature | May 2014 > | 12 |